Long before Bruno Sammartino and Pedro Morales captured the hearts of New York's ethnic population, Antonino Rocca was the hero in the ring and hero in the community – a true People's Champion writes Will Burns.
In the Veneto region of Italy, the city of Treviso was recovering from the impact of World War I, when Rocca was born in 1921. Antonino and his family emigrated to Argentina in the late 1930s where they settled in the city of Rosario in the province of Santa Fe. He participated in rugby and soccer, before eventually climbing into the ropes under Buenos Aires promoter Karl Nowina in 1945 where the 24-year-old Rocca was first spotted by his future booking agent, Russian wrestler Kola Kwariani.
However, it was Yugoslavian-born wrestler Nick Ellitch that brought Rocca into the United States in 1948 where "Argentina Rocca" made his debut in Galveston, Texas come July. He defeated Gorilla Macias by two straight falls and stunned the paying crowd with acrobatics and agility they had never seen before. He impressed the promoters too; Rocca was billed as the Texas Heavyweight champion soon after by Houston promoters Morris Sigel and Kwariani.
Though it would be in New York City where Rocca would be the biggest success. After professional wrestling was pulled from Madison Square Garden in the 1940s, Joe "Toots" Mondt, of the Manhattan Booking Agency, signed Rocca to an exclusive contract from under the noses from Houston after Rocca's visa had expired. However, Rocca chose Kwariani to still be involved in his career, as his agent to protect his bookings. The first MSG comeback show bombed with less than 5,000 fans, so Mondt booked Rocca to face Gene Stanlee on the next outing in February 1949 to massive improvement of 17,584 in attendance. This caught the attention of promoters across the country, who fought tooth and nail to hire the 27-year-old Rocca on their shows.
Rocca was a unique attraction in a world heavy on headlocks, submission moves and knock-out, drag-out brawls and his popularity soared. Only in his bare feet, he took flight in the ring and exclusively used high-flying manoeuvres in a time when others did not possess these moves in their arsenal. Rocca was wowing the crowds dropkicking opponents in their face, developing a huge ethnic fanbase in the process. To the Italian and Spanish speaking community in the Big Apple, the barefoot Rocca, who was "too poor to afford boots", was their working-class hero that took the ring to battle evil and gave them an escape from their hard-working lives.
Come 1950, wrestling became a regular broadcast for television and with more and more of the population purchasing the T.V. sets, more eyes were witnessing the acrobatic skills of Rocca, sending his demand into orbit. So much so, this grabbed the attention of the National Wrestling Alliance and its champion, Lou Thesz. However, a pair of matches in January and in March 1953 were disappointing at the box office, the attendances dipped rapidly from November 18th 1952 which pulled in 18,357 with a Rocca vs. Lu Kim main event fell down to 11,693 and 9,300 respectively for the pair of Thesz-Rocca bouts.
Chicago promoter Kohler held a television on the DuMont Network and the wrestlers on the screen became national celebrities. Mondt cut a deal with Kohler to bring his workers to the Garden, while saved business in the New York from dwindling down further since Antonino was refused a visa to wrestle in October. He was missing for two months before he returned to battle Verne Gagne in December in a headline match that drew 11,651, and 15,071 for the rematch in February 1954. Despite going through a profitable period, the Manhattan Booking Agency declared bankruptcy in April so Rocca looked for employment elsewhere.
The relationship with Toots was not always rosy and beneficial for Rocca. In 1955, Rocca was supposed to be guaranteed $80,000 a year but the papers from the Department of Justice investigators unveiled that 20% of his salary was handed to NWA affiliate in Chicago, Fred Kohler and Mondt also took a handsome percentage meaning that Rocca only came out with around $25,000.
Fellow New York promoter Pedro Martinez later picked up Rocca's contract and booked him to work with Hans Schmidt, Deo Leo Jonathan and Yukon Eric before the crowds started to fall again, and a combination of bad business and Kohler's television show being cancelled meant that MSG shows would be pulled again. This was until December 1956 when Vincent J. McMahon, who was running T.V. out of Washington, D.C. was handed the schedule to the World's Most Famous Arena.
McMahon's live wrestling program from the Capitol Arena aired every Thursday from 10pm and his inaugural show featured Rocca headlining against Jack Wentworth which was seen on WABD-TV, Channel 5 in New York. Rocca cartwheeled to becoming an even bigger star, blooming into a household name and was booked as McMahon's lead attraction. Looking back in March 1977, McMahon speaking to the New York Post, declared that Rocca sold more television sets than popular comedian Milton Berle: "He was wrestling on five different TV stations at that time.".
Meanwhile, in 1957 and Rocca's feud with Schmidt escalated into a tag team battle at the Garden in front of 19,300 fans, tagging with Verne Gagne against Schmidt's German counterpart Karl von Hess on 4th February with a reported 5,000 fans turned away at the turnstiles. Rocca drew another sell-out (19,995) crowd four weeks later in a singles contest against Schmidt but business was on the rise, it was about to enter a further echelon.
McMahon was ready to introduce tag team belts into his promotion and booked Rocca and Puerto Rican grappler Miguel Perez as his first champions. The pair defeated "Wildman" Don Fargo and Don Stevens on March 30th with 20,125 in attendance – the show sold out three days prior, with scalpers selling ringside tickets at three times to original value. Wrestling was the hottest attraction in the Garden and the Rocca-McMahon relationship went from strength to strength.
Rocca and Perez had tremendous run with teams like Jerry and Eddie Graham, the Fabulous Kangaroos, 'Wild' Bull Curry and The Sheik constantly drawing full houses. The fans idolised the pairing and when they were cheated by the opposition the fans got out of hand and sometimes took it too far. In the November of 1957, Rocca and Edouard Carpentier paired up to take on the hated Dr. Jerry Graham and Dick the Bruiser in front of a raucous Garden faithful. After picking up the win, Graham and Rocca continued to brawl and the fans revolted throwing chairs and rampaged the ring.
The scene turned ugly with Bruiser and Graham throwing the overzealous fans to the ground. A total of eight police officers ended up injured and the New York State Athletic Commission took action fining all four grapplers (Rocca & Graham's fine the worst at $1,000) and going so far to dish out a lifetime ban to Dick the Bruiser from wrestling in the city. The arena also implemented a new regulation that no one under 14-years-old could attend wrestling events at the Garden – an injunction that stayed true for 20 years.
With his outspoken personality and loyalty to his people, Rocca continued his rapport with the public, visiting sick fans and children in hospitals, delivering lectures to young people, supporting local businesses and even attending weddings when invited. Throughout the sixties, Rocca's stardom spread into various media outlets, from numerous interviews for national newspapers and magazines to meeting President Richard Nixon to a guest appearance on The Tonight Show with Johnny Carson. He even appeared as a character in the August 1962 edition of Superman comic, where Rocca outmuscled an Octopus and tossed Superman out of the ring during a charity wrestling bout.
Rocca continued to draw in New York and appeared in a total of forty-eight consecutive main events, either in singles or tag matches, at the Garden. Although, Rocca pulled money in wherever he went and wrestled across the territorial system, drawing big in Chicago, Milwaukee, Boston, Detroit, Philadelphia, and over to Kansas City and Los Angeles. He also ventured up to Canada in Toronto and Montreal, where he had a short reign as champion of the latter.
His in-ring style eventually was imitated by many other wrestlers and McMahon decided to book him against of one the copycats: The Amazing Zuma. They met five times during 1959/60, drawing sell-outs at Madison Square Garden, The Armory in Newark and the Island Garden Arena in West Hempstead. Of course, Rocca won all five matches against his young impersonator.
By the end of 1962, after a short feud with 'Nature Boy' Buddy Rogers, Rocca and McMahon parted ways as Bruno Sammartino took over as the main draw, especially with the Hispanic and Italian fans and "Argentina" did not feel like playing second fiddle. He branched out booking his own shows under the banner of the World Booking Agency, with one highlight promoting matches for the 1964 New York World's Fair.
He continued to wrestle coast to coast but due to bad investments he took up jobs as a security guard in New Jersey and as a physical therapist in Florida. Before he first retired from in-ring competition in 1969, he tried to pick the business up in Buffalo and Cleveland for promoters Johnny Powers and Pedro Martinez, but showed a lack of discipline by not making some bookings. Apart from one match in California (June 1972) and a short stint in Puerto Rico rekindling his tag team with Miguel Perez in 1976, Rocca's time in the ring was done.
McMahon brought him back into the fold in New York as a commentator in 1975 before Rocca died at Roosevelt Hospital on March 15th 1977 due to a severe urinary infection. He was survived by wife, Joyce, and their three children: Natella, Eric and Antonino Jr. When Rocca sadly passed away, it was reported that the Italian was aged 49, however wrestling historian Tim Hornbaker, while researching his excellent Capitol Wrestling book, discovered a signed Social Security application that stated that Rocca was actually born on 13th April 1921, making him aged 55 at the time of his passing.
Antonino Rocca's connection with the migrant population of the Big Apple laid the foundations for Bruno Sammartino and Pedro Morales' success in the late 1960s and 70s. He will be remembered as a hero for the working man, in and out of the ring in his adopted home of New York and his fearless high-flying style inspired many after him to take to the skies for the fans' enjoyment.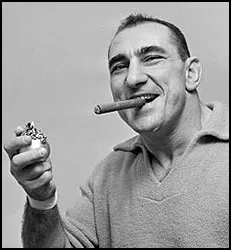 "There was never a more likeable and more personable fellow in sports. There was nothing phony about Tony." – Vincent J. McMahon, New York Post, March 16th, 1977.
As always, thanks for reading…
Will Burns
Source: WWE Network, Cagematch.net, Capitol Revolution – The Rise of the McMahon Wrestling Empire – Tim Hornbaker, Wrestling In The Garden, Volume 2 – Scott Teal, WrestlingData.com